| | | |
| --- | --- | --- |
| 10 Useful Tips Using Velcro | | |
Written by Idaho Real Estate News
Georges de Mestral, a Swiss engineer, invented the hook-loop fastener in 1941. The idea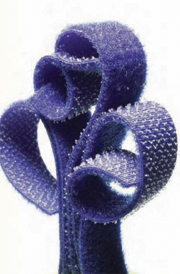 came to him after he took a close look at the Burdock seeds which kept sticking to his clothes
and his dog's fur on their daily walk in the Alps, during the summer. He examined their
condition and saw the possibility of binding two materials reversibly in a simple fashion.
He developed the hook and loop fastener and submitted his idea for patent in 1951.
De Mestral named his invention "VELCRO" after the French words velours, meaning 'velvet,'
and crochet, or 'hook.'
1. Stick several strips of Velcro™ to the wall and to the back of a lightweight frame to hang
art or photos on a wall.
2. Sew small pieces of Velcro™ between buttons to create a smooth surface to prevent a
jacket or a blouse from gaping open.
3. Secure a rug in place by sticking pieces of Velcro™ to the floor and to the bottom of the
rug.
4. Place strips of Velcro™ on a chair and on the cushion to stop seat cushions from sliding
off kitchen chairs.
5. Keep stuffed animals off the floor and give kids a fun way to cleanup by attaching a Velcro™
strip to the wall and Velcro™ pieces to the stuffed animals to keep them organized.
6. Use Velcro™ to attach the remote to the side of the TV so it's easy to find.
7. Use the hook side of Velcro™ to pull off pills from sweaters.
8. Keep electrical cords in place with Velcro.™
9. Keep a pen or paper next to a desk calendar with a piece of Velcro™ so you can jot down
special occasions.
10. Secure a tablecloth at a picnic by applying Velcro™ to the underside of the cloth and to
the picnic table.
More tips using common household items
Whenever you or someone you know needs help selling your home in Idaho, please keep Idaho Realtor, Don Wixom in mind!