| | | |
| --- | --- | --- |
| Looking Back at Idaho Home Prices | | |
Written by Idaho Home Prices
Average Idaho Home Prices- A Historic View
Taking a look back over the past 10-11 years, we can see where Treasure Valley home prices have come and gone. With the bubble in the Idaho real estate market, prices peaked in 2007 and began to fall as rapidly as they went up.
Looking at homes in the Boise area, including Canyon County homes sold and Ada County homes sold, we experienced nearly doubled values and then... a cut in half!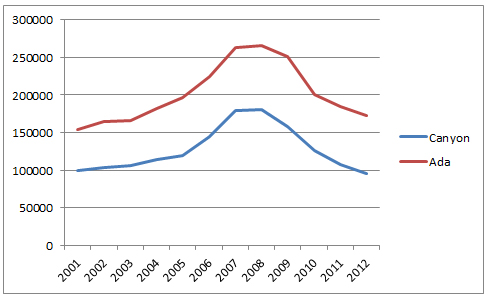 With Canyon County home prices being about 30% less than Ada County, an increase of 43% in sold prices was experienced from 2002 to 2007. Conversely, the next 5 year decline was about 42%.
De ja vu!
Warren Buffet has said to "be greedy when others are fearful and to be fearful when others are greedy." I guess it depends on who is fearful or greedy at the time, but the basic rule is to buy low & sell high.
We are currently experiencing the most affordable time to buy real estate since 1973, when you consider the median household income in relationship to the median home price in the Treasure Valley. Taking into account the extremely low interest rates and the tax advantages of home ownership, now is the time to buy!
Warren Buffet also recommends buying up single-family homes as rental investments in this market. I agree! You are able to cash-flow rental properties better than ever with these current prices and interest rates!
Contact me for a full market report of the Idaho Real Estate market.
"Looking out for your next move... on Idaho Real Estate"