You Can't Buy 61% of Nampa Homes!
Written by Idaho Short Sale Specialist
61% of Nampa IdahoHomes are Tied Up as Short Sales
When looking over the Nampa Idaho Real Estate market, the median price range is under $100,000. In this price category, 145 of the 238 "Active" Nampa homes have offers in place, waiting for third-party short sale approval from the seller's lenders! That's 61% of the market!
That only leaves 93 houses in Nampa in this price range for buyers seeking a new Nampa home.
When you consider 87 homes have sold each month in Nampa, in this price range, that is only 1 month supply of inventory!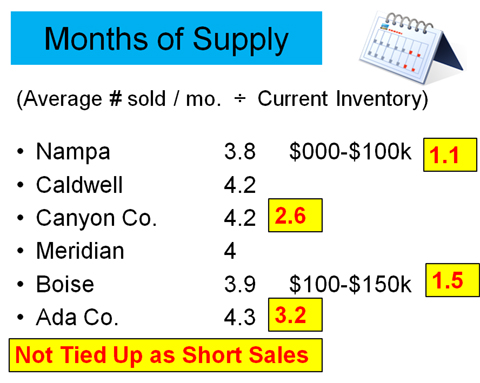 Most Boise Idaho Homes are selling between $100,000-$150,000 price range. 44% of Boise home inventory is tied up with contingent short sale offers.
It makes it tougher to find a home for buyers in this market.
Typically, when inventory is lower than 6 months supply, it is considered a seller's market. However, in this Idaho Real Estate market, the sellers don't want to sell at these low prices!
Even though prices are stabilizing and beginning to increase, there may be a long wait for some sellers to market their homes.
With this low inventory coupled with the spring and summer selling season, NOW is a great time to get your house on the market! The demand is high & buyers are often times bidding the price up, just to get the house they want!
Caution: Appraisals may not yet reach the buyer's willing price, however. This may take some time for historic sales to hit the books!
For buyers, prices are still low, interest rates are great & the affordability of buying a home has not been this good since 1973!
The market has turned & we're looking up!
Always looking out for your next move... on Idaho Real Estate,
Don Wixom
RE/MAX Advantage
(208) 880-5039 call or text