| | | |
| --- | --- | --- |
| Idaho Real Estate: Instant Text Info | | |
Written by Administrator
More tech savvy buyers are using their cell phones to capture real estate information from Idaho Real Estate signs. Don Wixom, Broker/Owner of RE/MAX Advantage in Nampa, Idaho, is utilizing a service which provides free text messages to anyone who inquires from his custom made signs on his property listings.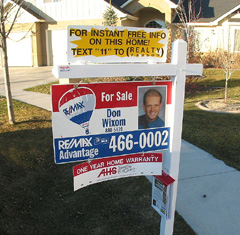 The service works like this: Interested buyer drives up to the property and simply reads the instructions on the sign. They type "REALTY" in the 'to:' field and in the body of the message, they type the special code for that property, ie. "11". The caller instantly receives a return text message with the price of the home along with the particulars, ie. # of bedrooms, baths, square footage, amenities, etc.
Don says, "This is a great tool for younger buyers or those who are tech savvy. It also helps when my flyer box gets empty and the information isn't readily available". This service is completely free to the caller. Don picks up the tab and is also able to notify a prospective buyer of a price change or status change on the property.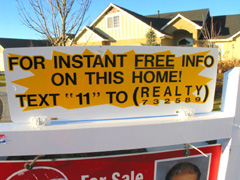 "It's just one more way I put my best foot forward for my sellers" says Don. "There's more to selling Idaho Real Estate than placing a yard sign up!"
Whenever you know of anyone who wants to sell their home or needs professional representation in buying or selling Idaho real estate in the Boise Real Estate market, please contact Don Wixom!