| | | |
| --- | --- | --- |
| Treasure Valley Activities | | |
Written by Don Wixom
Idahoans are passionate for their outdoor activities. Whether you're a thrill-seeker or nature enthusiast, Southwestern Idaho has a rich array of outdoor resources for you to enjoy including Camping, Hiking, Boating, Climbing, Kayaking, Rafting, shooting competitions and much more!
Motorsports
ATVs and Motorcycles
If you're an off-roader, you are just a few minutes from a trail just about anywhere in the Treasure Valley. There are trails in the dessert areas, hill country, and mountains, with the beautify scenery to go with each. Here is a link to the Treasure Valley Trail Machine Association to get you started. Here's a link to more local offroad resources.
Now, a new Idaho business offering rentals of ATV's and RV's! Check out IdahoATVrentals.com!

RV'ING

Idaho has plenty of RV parks throughout the state. The open Interstate speed limit is 75 MPH and most highways are 65 MPH. Secluded campgrounds or RV parks with easy freeway access are readily available! Visit www.rvidaho.org.
Snowmobiling

Snowmobiles are serious business here in Idaho. There is an abundance of trails available in the local mountains, from groomed to deep powder. You might want to check out the official state trail plan and more Treasure Valley snowmobiling information.
Skiing
You will find plenty of downhill skiing areas and cross country trails in Idaho. Bogus Basin is Boise's local ski area, only a fifteen minute drive from the heart of the city. There are plenty of activities there for the whole family, including terrain parks, cross country trails, downhill slopes, lessons for all ages, and childcare. If you plan to visit Brundage Ski Resort near McCall, Idaho, don't miss the opportunity to see the amazing ice sculptures! www.mccallwintercarnival.com
HUNTING
Both archery and firearms hunting are popular in Idaho, including black powder. If you are looking for some good hunting grounds, whether for duck, quail, elk, deer, bear, or just about anything else, you will not have trouble finding them. Check the state website for detailed information on different types of hunts, tags, seasons, etc. Here is a link to the Idaho Hunt Planner.
Fishing
Idaho is known for some of the best fishing in the country. You will find great largemouth bass fishing at Lake Lowell and other lakes, plentiful smallmouth bass in the Snake River alongside six foot long sturgeon, steelhead and salmon in many of the mountain rivers and streams, and of course, the ever-popular trout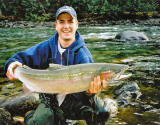 and catfish. Whether you're a serious angler, or just want to take the kids out for a weekend of fishing, Southwestern Idaho will provide you with more than enough opportunities. Check the Department of Fish and Game for more info. You can also visit www.idaholakefishing.com! What's the difference between a Steelhead and a Salmon?
HORSES
The Idaho Horse Park is centrally located in Nampa, Idaho, just off Interstate 84. This is the largest facility of it's kind near the west coast and one of the largest in the country! For horse enthusiasts of any kind; Rodeo, Cutting horse competitions and show horses, visit the Idaho Horse Park at www.idahohorsepark.com.