You are here:  

Boise Area Home Inventory
Details

Category: Market Updates Market Updates

Published: 04 July 2011

04 July 2011

Hits: 21610

21610
A 5-Year Snapshot of Boise Area Home Inventory Supply
We all have heard of the basic law of supply and demand. In the Boise area real estate market, you can see it in full effect!
As we see Idaho real estate & home inventory dropping, especially in the lower price ranges, we also recognize the average sales price is somewhere between 50% - 60% of what it was in 2007.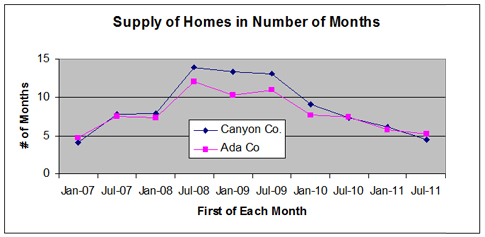 We calculate the absorption rates by determining how many homes (on the average) have sold each month for 2011 and divide that number into the current inventory, giving us number of months of supply.
With the lowering supply of homes for sale in the Treasure Valley, we are experiencing price stabilization. Though we are not seeing great increases yet, the continual dropping of prices has seemed to subside for the time being.
With an ever-so slight increase in new construction, we are seeing a few more people back to work, but the valley, as a whole, needs jobs.
My thoughts are that this trend may be seasonal and we could be in for another possible drop in pricing this winter, but supply and demand will help determine where our prices go.
The great news is, there are buyers who are able to get financing and to qualify for purchasing homes in Nampa and homes in Boise, as well as across the Treasure Valley. Many homes on the market are selling at higher than asking price, due to multiple offers and buyers competing to buy.
The homes that shine the best and are easy to show sell first and for highest dollar! 2 Things You Gotta Do to Sell Your House!
If you have questions about the Boise area real estate market, please feel free to call me or drop me an e-mail. We have been tracking MLS statistics for several years and have valuable information for both home buyers and sellers.