You are here:  

What Does a Home Warranty Cover?
Details

Written by Don Wixom

Don Wixom

Category: Uncategorised Uncategorised

Published: 16 October 2017

16 October 2017

Hits: 9968

9968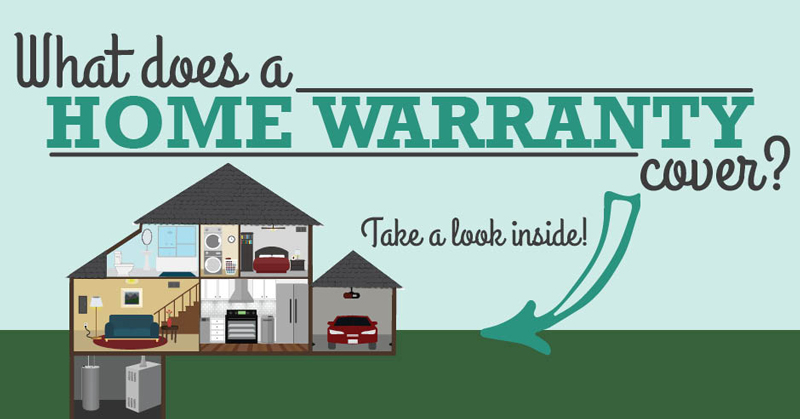 If you're thinking of getting a home warranty on your house, or you've recently purchased a home that includes one in the sale, you may wonder: what's covered with a home warranty? Obviously, this depends on the home warranty company the contract is through, as well as which plan is purchased. Most companies have different levels of plans, and more expensive plans mean more coverage. However, on a basic level, most home warranties cover similar things: a home's systems and appliances. Read on to learn more about what you can expect with coverage from a home warranty!
Home Warranties vs Home Insurance
Home insurance covers the structure of a home, as well as damages that occur because of fires, floods and other natural disasters. If your dishwasher started leaking, home insurance would likely cover the water damage it caused. A home warranty, on the other hand, would repair or replace the failed dishwasher but wouldn't cover the damage caused. Home insurance covers the structural part of a home, while a home warranty covers the systems and appliances within it. This is important to remember because there's not much overlap between the two – homeowners need both!
What's Covered in a Home Warranty?
An animation showing what most home warranty plans cover in a house. A home warranty covers systems and appliances in a home that have failed from normal wear and tear. Systems and appliances have lifespans – they break down, wear out, and stop working, unfortunately. They won't last forever, and a home warranty is there to help soften the cost of paying for a brand new system or appliance when it fails from old age (normal wear and tear).
Covered Systems in a Home Warranty
Obviously, there's the foundation, roof and walls that make up the structure of a home, but certain systems make the home comfortable and easy to live in. A home warranty contract usually covers the:
Plumbing system
Electrical system
Heating system
Cooling system
This includes things like the HVAC unit, ductwork, pipe leaks, circuit boxes and more.
Covered Appliances in a Home Warranty
The appliances that are included in different home warranty plans vary greatly. Most home warranty plans cover:
Dishwasher
Oven
Built-in microwave
Range or cooktop
Kitchen exhaust fan
Garbage disposal
Garage door openers
Depending on the level of coverage, plans may also include:
Refrigerators
Washer and dryer sets
Ice makers
Water softeners
Home warranties can add additional systems and coverage, depending on the homeowners needs, including:
Swimming pools, spas and hot tubs
Septic systems
Grinder pumps
Roof leak repair
Depending on the home warranty, different parts of these systems will be covered, while others may be excluded from coverage. The best way to know what's covered in a particular home warranty plan is to read the contract thoroughly. A good rule of thumb to remember, though, is that a home warranty generally covers the mechanical parts of a system or appliance. That means the handles that you use to open your oven aren't covered because they don't affect how the oven cooks your food. Now, if a heating element goes out in an oven (because it's worn out from normal wear and tear) that would be included in a home warranty as it's a mechanical part.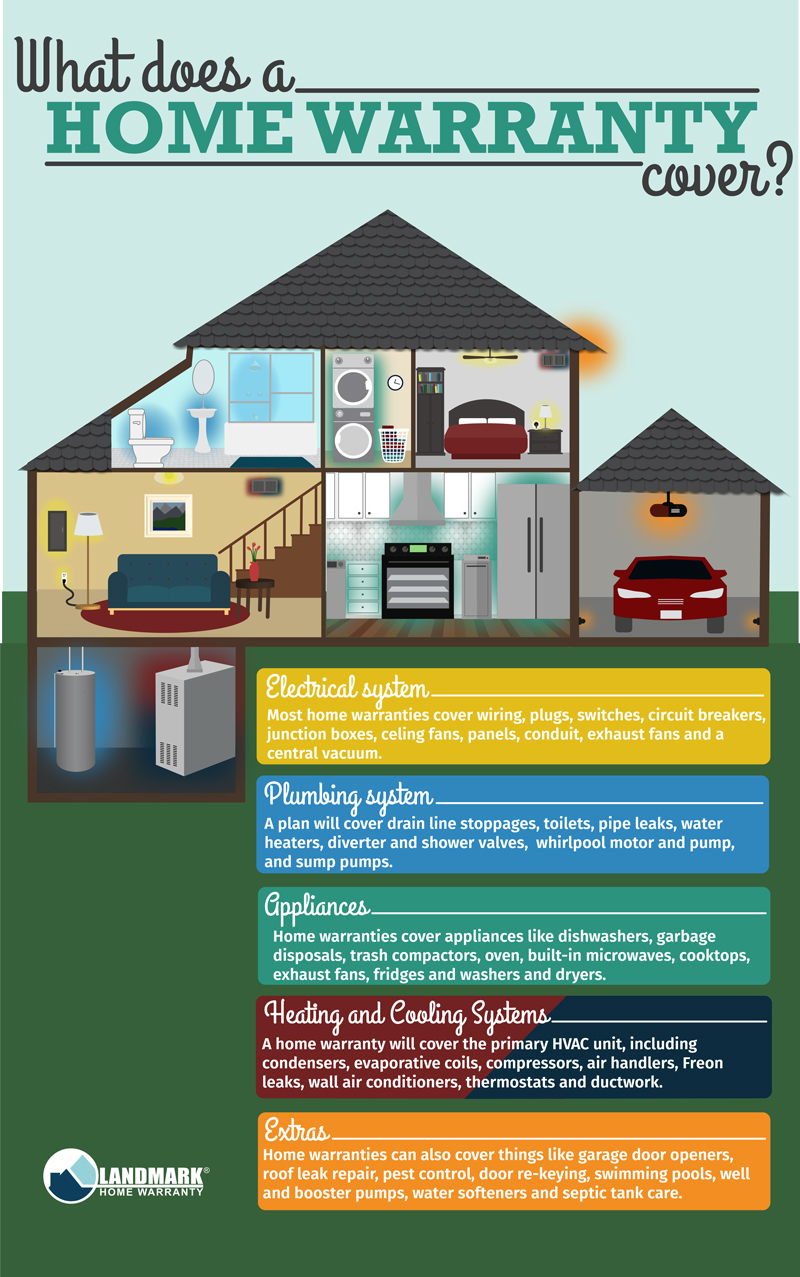 Some home warranty contracts have "limits" included on them. This may be set as an overall dollar amount, or on certain items within the contract. Some home warranties will cover anything on their contract up to a certain amount of money (say $24,000) and then will no longer pay for repairs and replacements, regardless of if it would be covered with the contract.
Other home warranties have limits on certain items where they will pay up to a certain amount for a repair or replacement, and then the rest must be covered by a homeowner. For example, Landmark will pay up to $500 on ductwork modification which means if the homeowner has to repair HVAC ductwork, Landmark will pay $500 to repair or replace it, and the rest of the cost must be covered by the homeowner.
It's important to look at limits while looking at a home warranty contract. Some home warranties are cheaper, but have low limits on many items they cover. This won't give you as much coverage.
Home Warranty Exclusions
Every home warranty company has different types of exclusions on their contract. Sometimes these exclusions just mean it would be less than the service call fee for a homeowner to get the item repaired or replace. (A good example of this is a sink pop- up mechanism.) Other times it means it would be too costly for the home warranty company to pay for every single part of a system or appliance. There's a reason that most home warranty premiums are so low – a home warranty can't cover every single repair.
Another exclusion that some don't know is that…
Home warranties don't cover lack of maintenance
If you don't maintain the systems and appliances in a home, causing them to work harder and burn out faster, they probably won't be covered by a home warranty when they fail. Part of a home warranty contract is making sure that a homeowner makes a reasonable attempt to keep things running correctly and cleanly while they own the home.
Another exclusion is …
Home Warranties May Not Cover "Known Conditions"
If a home inspector went through the home before closing and mentioned a number of things that needed to be repaired or replaced, a home warranty won't cover those items. They are considered "known conditions." Much like if you crash a car, and then buy insurance and attempt to file a claim, a home warranty won't cover a system or appliance that is already in bad condition. It's not how insurance works! Make sure to get a discount on the home when in the process of buying so you can foot the bill on the repairs or replacements yourself, or have the seller pay for them before purchasing the home.
Make sure to get the most out of your home warranty by reading the contract and knowing what to expect! It's important to be sure of what you're buying when getting a home warranty, and knowing what will be covered and what won't with a home warranty contract.